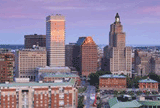 With a focus on "place-making", the Congress for The New Urbanism meets in Providence June 1-4, 2006
Wanted: developers, planners, economic policy types, architects, builders, and regulatory officials. That is any practitioner who is helping to shape a place, a city or a village. The CNU XIV planning committee is especially interested in featuring local examples and partnerships resulting in the development of compact, walkable, mixed-use communities. To learn more, explore What is New Urbanism?
Using the developer as the lens and our region as the model, CNU XIV will get participants into the field to better understand where New Urbanism has succeeded, where it has failed and where it merely failed to try.