The new head of the State Planning Division will provide brief highlights of the soon-to-be-adopted plan at Grow Smart's December 9th networking reception at Riverfront Lofts in Pawtucket.

These are some of the questions that are addressed in Land Use 2025, the soon-to-be-adopted Future Land Use Plan for the State of Rhode Island. Kevin M. Flynn, Associate Director of Rhode Island's newly created Division of Planning, will provide a 15-minute briefing of the future land use plan and discuss its implications for the future well-being and prosperity of our state.
Grow Smart is hosting the reception in partnership with Blackstone Exchange, LLC at:
Riverfront Lofts
Friday 4:00 – 6:00 p.m.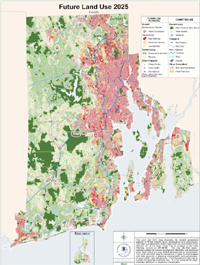 Who should attend?
This event is primarily a value-added benefit for advertisers in our Smart Growth Yellow Pages directory, an initiative that brings together public and private sector interests, while also helping to sustain our work. Also attending will be members of our Board of Directors, Advisory Council, staff, major funders, and key government officials.